Jenny Rhoades was sitting on her sofa watching television when she spotted the black bear wandering through the woods behind her house, in the Orlando area of Florida.
It headed towards her pool area and tore open the mosquito screen with it's nose before it stuck its mouth in the hot tub for a drink.
It wasn't long before the bear climbed into the water for a swim.
Rhoades then rattled patio furniture to scare the bear off back into the woods.
Read more: http://www.metro.co.uk/weird/865776-bear-enjoys-hot-tub-alarms-owner#ixzz1Olai9nR4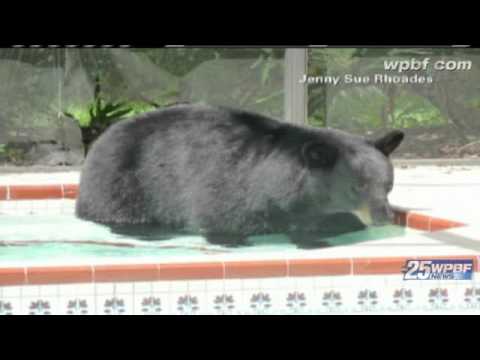 "It was beautiful, it looked really healthy,' she said. 'The poor guy was just hot and thirsty, it was 90F out there.'
She added: 'I'm not scared. We see them around and I've learned to respect them. They don't attack people. But I've never seen one come up so close, they usually are too scared but he must have been very thirsty.'