This is raw video caught on tape of a woman at the scene of a rollover accident that she was involved in, and she is clearly upset with state troopers over something. She tries to get them to taser her and take her into custody along with her husband who was just arrested for suspicion of DWI.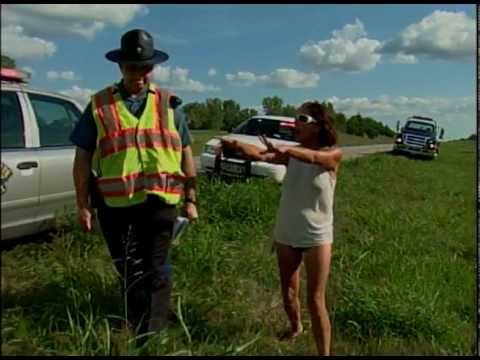 A Missouri woman is free from police custody after launching an expletive-filled rant at state troopers following a crash. The accident happened on U.S. 63 near Ashland, a town near Columbia, Missouri.
The woman and her husband were in a pickup towing a boat. Police say the husband lost control of the truck and the boat flipped into the highway median.
The woman began shouting at troopers while they were investigating the crash. At one point during the woman's rant, she tried to convince troopers she had been driving the pickup, and challenged them to taser her.
The woman's husband was arrested on charges of drunk driving, driving without a licence, and marijuana possession. The woman was briefly detained, then released.