A video of the young Mini Band's performance of Metallica's Enter Sandman at the Bucklebury Beer Festival has gone viral, racking up more than 800,000 YouTube views in less than a week.
The Mini Band includes Zoe Thomson on lead guitar, Harrison Read on lead vocals and Charlie Emmons on drums: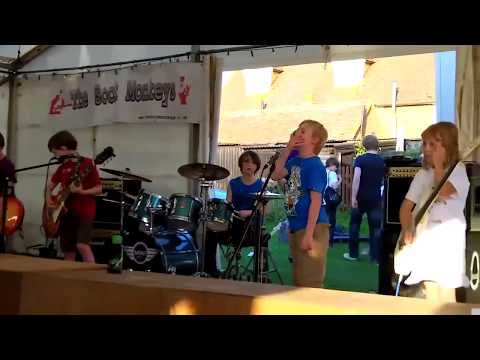 With eight-year-olds Kieran Fell, Harry Jackson, Zoe Thomson and Harrison Read on lead vocals and ten-year-olds Charlie Emmons on drums and Archie Zolotuhin on bass, the crew have fast become an internet sensation.
One impressed YouTube viewer commented: 'dude.. that girl is better at guitar than I am.. and I'm 22.. haha.' (sic)
Another said: 'Is this real!?!?! cuz if it is these kids are insanely awesome and skilled. unbelievable.' (sic)
The Mini Band's usual set also includes Knights Of Cydonia by Muse, Fly Away by Lenny Kravitz, The Middle by Jimmy Eat World and Red Hot Chili Peppers' Dani California.
The young group from Thatcham in Berkshire – who already have a host of gigs in the pipeline – are performing next Saturday at the Thatcham Arts Festival.