Two legendary Canadian footballers have proved that old habits die hard at an awards dinner honouring the 73-year-old former rivals. Joe Kapp and Angelo Mosca exchanged blows as guests at the Canadian Football League event looked on in shock.
It all started when Mosca, a former Hamilton Tiger-Cats lineman, rejected a flower that Kapp, an ex-British Columbia Lions quarterback, offered as a peace gesture. Kapp lunged at his one-time nemesis who retaliated by swinging his walking stick at him.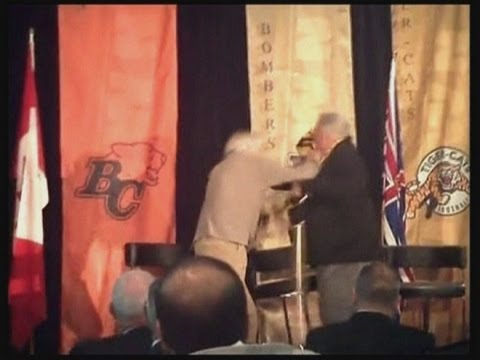 Kapp then attacked with his bare knuckles, hitting Mosca on his jaw. Onlookers finally broke up the two men but not before Kapp punched his old opponent to the floor.
The men are said to have been at odds for almost half a century, following a 1963 championship game in which Mosca delivered a questionable hit that knocked one of Kapp's team-mates out of the match.